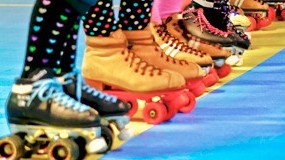 Spring is officially here and that means that the end of the school year is fastly approaching. Are you looking for an awesome way to reward your kiddos for all of their hard work in the classroom this year? Well, look no further! Roller Cave is the perfect place to bring your kiddos for an exciting fun-filled day no matter what the weather in Indianapolis is. Rain or shine, you're kiddos are guaranteed to have a great time.
Do you lead a children's group?
Get your kiddos together for one last hoorah this school year at Roller Cave in Indianapolis, Indiana. Take a look at how to book your group's trip to Roller Cave, below.
Booking your group's trip to Roller Cave is super-easy. Simply hover your mouse on the Groups tab in the toolbar of our website. When the list of group booking options appears, select your group type from the list and you'll be directed to a page that'll give you details about how to book your group's trip to the Roller Cave. If you don't see your group type listed in our list of groups, don't worry – give us a call and we can make accommodations for your group!
For more information about admission and party bookings at Roller Cave, visit our website or give us a call at 317-898-1817. Do you enjoy bringing your children to Roller Cave for safe, family fun? Rate and share your experience at our facility with us in the review section of our Facebook page today. We always enjoy hearing from you!