Here at Roller Cave in Indianapolis, Indiana, we love when adults either relive their youth, or learn something new. We love to see them on skates! We offer a variety of lessons for a variety of skill levels! There are do's and dont's of roller skating as an adult that we feel you should know though…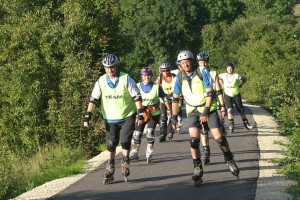 DO LET YOURSELF HAVE FUN!
Your life is stressful, to say the least, so let yourself let loose a little! Try to relax, and have a good time. Try not to worry about the kids, or dinner, or the meeting tomorrow. Just have a good time!
DON'T TRY TO SHOW OFF
Remember, you are there to have fun, not impress! Do not throw your back out, or fall and break a bone. Understand your limits, while still having a good time.
DO REMAIN RESPONSIBLE
Although you should let go, and have fun, do it in a way you will not regret in the morning. Retain your reputation and wits about you.
DON'T FORGET TO BE LIMBER
Learning to fall is a great tool to have in your belt! After all, even if you were an expert skater in your younger day, you may be a bit rusty. It is okay though, we teach you to fall!
IT'S NEVER TOO LATE TO LEARN
We offer lessons to skaters of all skill levels, and ages so find out what time works for you, and give us a call today! 317-898-1817