Parents, are you having a problem finding a fun place in Indianapolis, IN to have your child's birthday party? Don't stress out! Roll on into the Roller Cave and book one of our awesome birthday party packages! We offer four skatastic party packages that your kids, young and old, are bound to love! All of our birthday packages offer an hour and a half of space reservations, plus ton of other options!
Roller Cave Birthday Party Packages
Our Classic Birthday Package includes a personal party host, three pitchers of soda, a Birthday Cake (can be switched for 2 Large Pizzas) and a deluxe skate rental. The Birthday child is free and receives their own personal birthday button.
The Ultimate Party includes all the items of the Classic Package plus two slices of pizza per guest, goodie bags, a skate pass for the future, glow sticks, ice cream and a t-shirt for the birthday child.
Our VIP Party gets all of specials included in the Classic and Ultimate Packages PLUS one and a half hours reserved in the VIP area, a glow party centerpiece, 3 slices of pizza and unlimited soda for guests.
The final package is the Express Package. This is unique as it comes in up to 7 and up to 15 guests (additional guests are $10). This package includes one and a half hours of reserved seating, table place settings and decorations, party admission and skate rental is all included. We give you a personal party host to take care of all needs from beginning to end. Each guest receives pizza and soft drinks and 3 BONUS pitchers for refills. They also receive a goodie bag or blinky stuff. The Birthday Child gets their own special celebrity gifts! They also receive a Cave birthday shirt, Premium birthday button, a special DJ announcement, and a birthday balloon.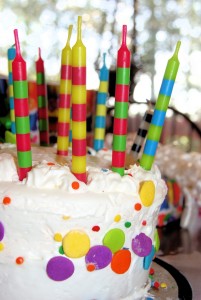 Make your child's special day one to remember by taking advantage of our fun-filled birthday party packages at the Roller Cave!
Questions or concerns?
Please contact the friendly staff at Roller Cave at 317-898-1817 or email us at: Info@rollercave.com. We look forward to speaking with you soon!