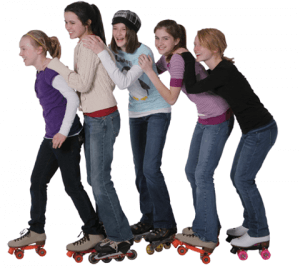 Public Skate Specials-Scroll Down for regular schedule…….
Super Bowl=Super Roll   Fun Sk8 Weekend  Feb 5,6,7
Wear your favorite team gear and enjoy some tailgate fun.
Enjoy food specials & tailgate games all weekend long !
Learn To Skate * New Time  
Saturday 12:00-1:00 pm
Gospel Roll Sunday February 21st 6:30-9:00 
Schools Out Skating – Monday  Monday February 15th  from 12:00-3:00pm  $7 Admission – Free Skate Rental
New * Toddler Time  Saturday mornings from 10:00am-12:00(noon)

This is a special for preschool aged children to enjoy the rink.  

Big wheels, Tri-cycles, waggons and strollers all welcome on the rink!  Ages 5 and under only please 
Christian Sk8 Party  – Sunday February 28th  6:30-9:00pm
************************
Public Skating Schedule – Join the Fun ! 
Friday Pizza Jam- *2 Pizza slices included
Family R&B     6:00-10:00pm
Saturday Skating Fun
Family Fun      12:00-3:00pm

Family R&B     3:00-10:00pm
Sunday Pizza Jam- * 2 Pizza slices included
Family Fun      12:00-3:00pm

Family R&B     3:00-6:00pm
Strict dress and conduct codes are enforced.
– Parent Spectator admission free only with child admission purchase
– All Adults and Children above age 2 must Pay Admission
– Skates required on all public sessions
Bring your own skates as long as they are clean, safe, and have proper brakes or plugs.  We offer 4 types of rental skates for one low price.  You can choose regular skates, beginner skates, speed skates, or inline skates.  Skate Rental is $3.00 per person on all sessions.  No heelies, electric skates, hoverboards, segways, swagways or similar recreational motorized devices allowed anywhere in the building.
Monday through Thursday – The skate shop and office are open. No Open Public Skating Unless the kids are out of school. Private Groups, Companies, Churches, School Reward Parties and Fundraising events happen daily!