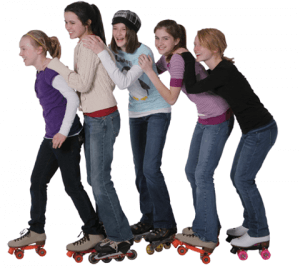 Friday Pizza Jam- *2 slices included
Family R&B     6:00-10:00pm
Saturday Skating Fun
Family Fun      12:00-3:00pm

Family R&B     3:00-10:00pm
Sunday Pizza Jam- * 2 slices included
Family Fun      Closed Mother's Day May 8th – Regular 12:00-3:00pm 

Family R&B     Closed Mother's Day May 8th – Regular 3:00-6:00pm

*******************************************************
SUPER SKATER QUALIFYING WEEKENDS
Friday, Saturday, Sunday May 13th – 22nd
Roll & race with your friends for some cool prizes & a chance to be in the big race.
SUPER ROLLER RACER WEEKEND
Noodle Races **Relay Races  **  Egg Races  **  Food Races ** Text Races
Friday May 27th & Saturday May 28th
************************************
SUMMER SCHEDULE – June & July Join the summer skating fun !
Thursday & Friday from 12-3pm **  Friday Family R&B 7-10pm
Saturday Family Fun 2-5pm ** Saturday Family R&B 5-10pm
Strict dress and conduct codes are enforced.
– Parent Spectator admission free only with child admission purchase
– All Adults and Children above age 2 must Pay Admission
– Skates required on all public sessions
Bring your own skates as long as they are clean, safe, and have proper brakes or plugs.  We offer 4 types of rental skates for one low price.  You can choose regular skates, beginner skates, speed skates, or inline skates.  Skate Rental is $3.00 per person on all sessions.  No heelies, electric skates, hoverboards, segways, swagways or similar recreational motorized devices allowed anywhere in the building.
Monday through Thursday – The skate shop and office are open. No Open Public Skating Unless the kids are out of school. Private Groups, Companies, Churches, School Reward Parties and Fundraising events happen daily!