The Bat Cave
If you're not in the mood for roller skating, don't worry! At Indianapolis' Roller Cave we have other attractions to offer, such as our fantastic Bat Cave!  The Bat Cave is a state of the art indoor batting cage facility, which allows you to have a truly immersive batting experience!
Indoor Batting Cages
If you don't see yourself as a batting professional, it is okay! Our batting cages were specifically made to match your level and age. This means you will be able to improve with every minute spent in the cage; moreover, our staff is always nearby if you ever need assistance! If you are a parent teaching your children to bat for the first time, we also offer hitting drills, which include tee work & soft toss!
On the other hand, if you are a batting professional, do not be shy to showcase your skills! At Roller Cave, we have just installed the latest and greatest in our new Pro Tunnel! This tunnel was made to challenge even the most advanced of batters, in every way possible. Our Pro Tunnels offer the most advanced batting machines, which are capable of pitching balls in speeds between 35 MPH and 100 MPH. These will also pitch curveballs and fastballs, as well as offering a "random" option to keep you on your toes!
Don't forget to work on your pitching game as well as your batting game! We also have special tunnels which allow you and a friend to pitch and bat together, so you will always be on top of your game! If you're a coach for a local baseball or softball team, consider having some team practice at Roller Cave. We also offer personal memberships, as well as team memberships to The Bat Cave. These grant you privileges such as: daily walk-in's, homerun membership, plus 30 minutes in the Pro tunnels weekly, all at very affordable prices! In order to guarantee you a pitching lane or batting cage, we ask that you please reserve one in advance; however, walk-ins are accepted.
The Bat Cave's Spring Break Hours
If you're interested in trying out some of The Bat Cave's new indoor batting cages or pro tunnels out this Spring Break, be sure to check out our schedule below. Make sure to roll over to our roller rink for some extra Roller Cave fun as well!
BAT CAVE – Now Open Daily! (This schedule valid through Sunday, April 5th.)
*Private appointments are also available.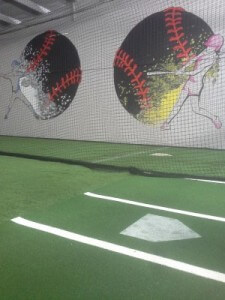 Monday – Thursday  Noon– 9:00 pm
Friday                        Noon– 9:00 pm
Saturday                9:00am – 9:00 pm
Sunday                10:00am – 9:00 pm
Questions or concerns about The Bat Cave? Please contact our 'Bat Line' at 317-643-2283.